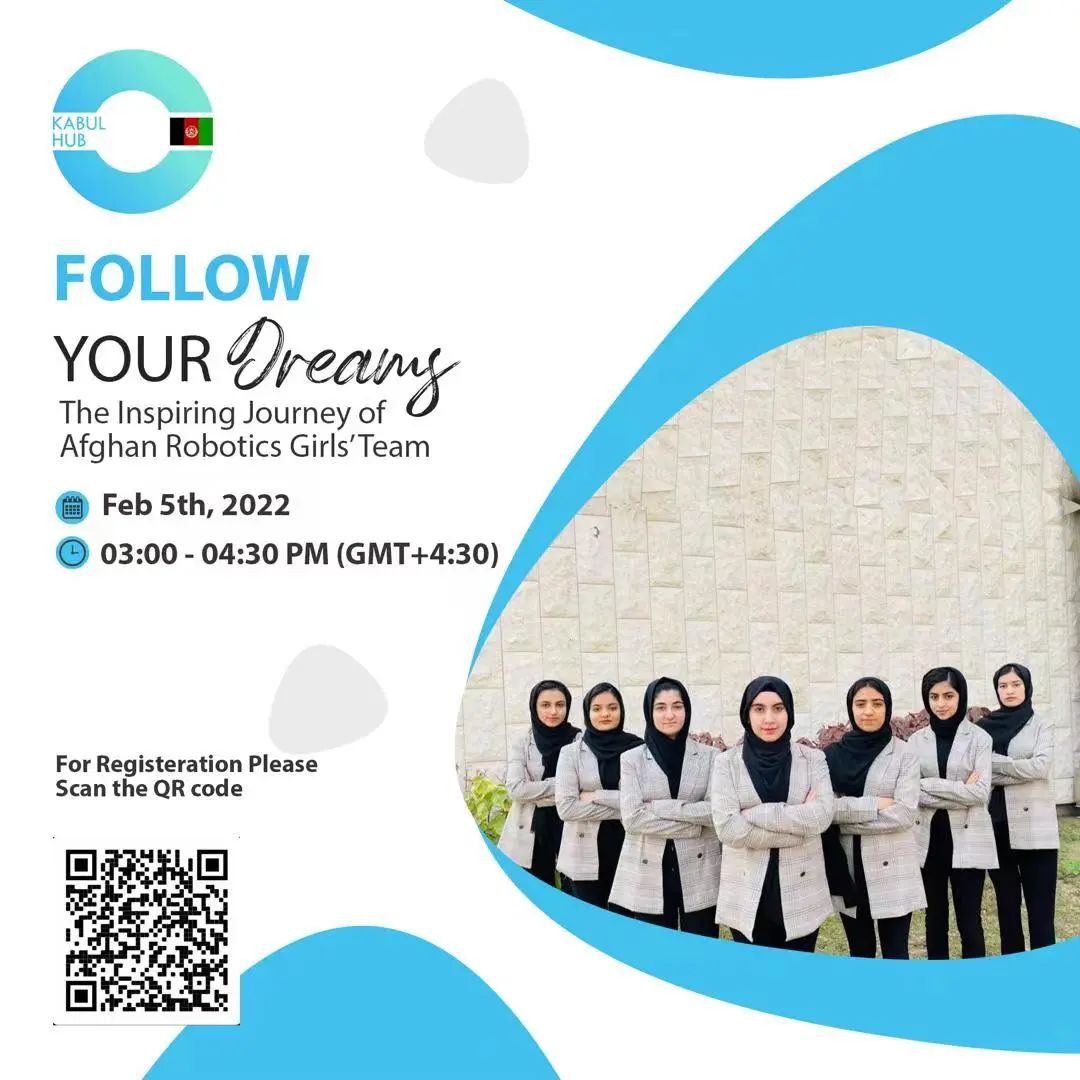 "Follow your dream with The Afghan Girl's Robotics Team"
Kabul hub is honored to host an inspirational event titled "Follow your dream with The Afghan Girl's Robotics Team".
The Afghan Girls Robotics Team, also known as the Afghan Dreamers, is an all-girl robotics team from Herat, Afghanistan, founded in 2017. The robotics team has come up with unique inventions since their beginnings four years ago, including a low-cost, hand-operated ventilator for coronavirus patients, using parts discarded from old Toyota Corollas, a common car in Afghanistan.
Making a wheelchair for people with disabilities that control their wheelchair pupil.
Afghan Dreamers' achievements in last few months.
1: Won the judges Award in first Global's 2021 competition.
2: Won an "Entrepreneur Challenge" at a festival in Estonia for developing a solar- powered robot.
3: Selected in the list of 30 scientists, inventors and businessmen under the age of 30, by Forbes Magazine.
4: Listed as one of BBC's 100 women.
5: Talked on behalf of Afghan girls in UN.
6: Selected in the Hidden hero list by UNICEF
7: Selected by Vogue magazine
8: Selected in the SHEroes list by UNICEF.
Join this amazing webinar and learn Afghan dreamers' stories.
This virtual webinar will explore the unique communication challenges Afghan women are faced, as well as the opportunities of being successful individuals.
We will share relevant insights that women can use both now and in the future.
Don't miss the opportunity!
Grab ur spot NOW!
DATE: Saturday, 5th February, 2022
TIME: 3:00 – 4:30 PM Kabul Time (GMT +04:30), 6:30 pm (Beijing time) 
WHERE: Zoom Webinar
Register on this zoom link:
https://us02web.zoom.us/meeting/register/tZUrdeCuqzMiGNDhjjbNJUAP1-6i-7m_FYkM
SAVE THE DATE!
Looking forward to having you all