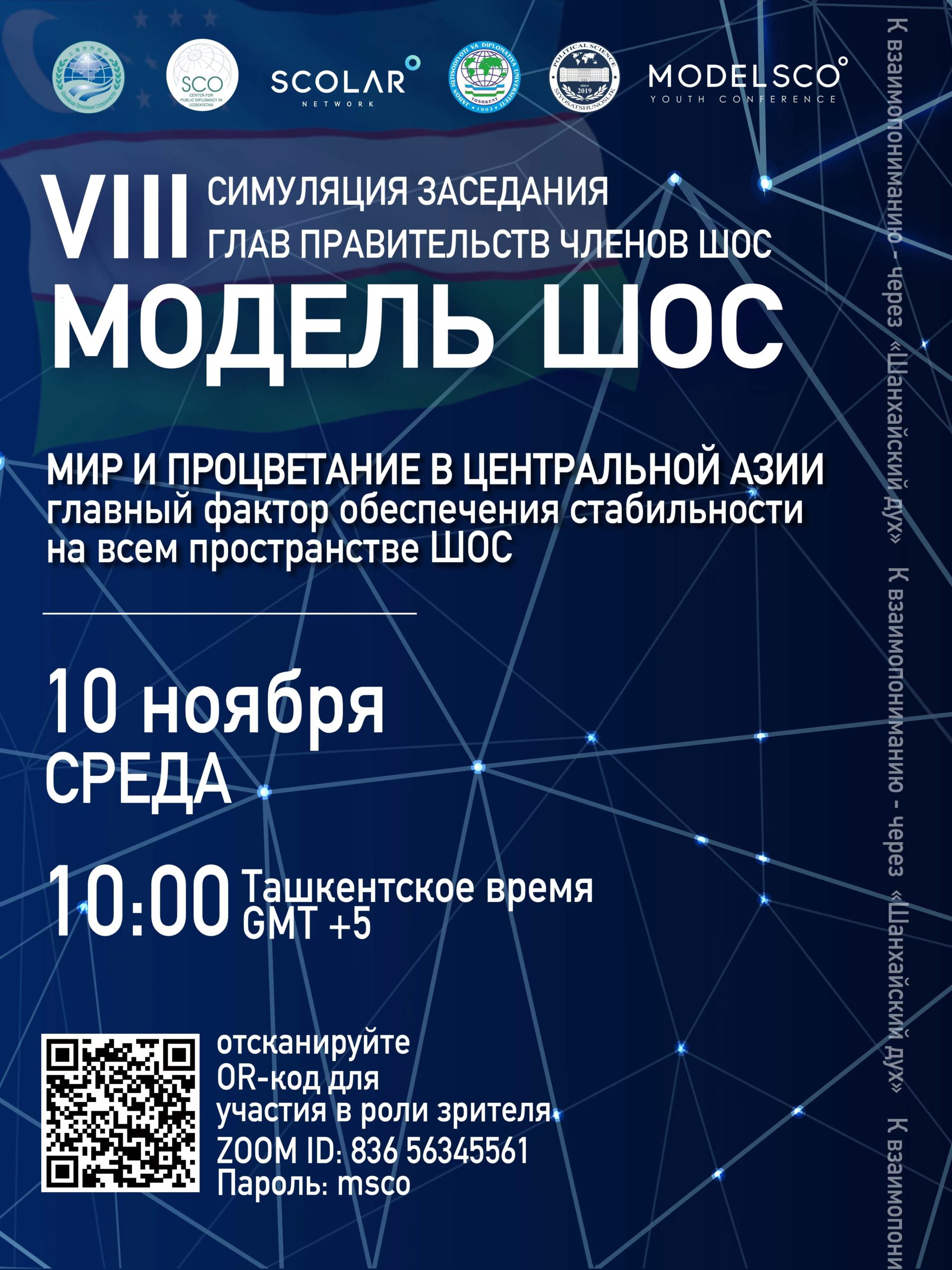 VIII Model SCO | Tashkent, 10 November!
VIII Модель ШОС | Ташкент, 10 ноября!
Молодежная платформа SCOLAR Network приглашает вас принять онлайн участие в Модели ШОС, которая состоится уже завтра, 10:00-14:00 по ташкентскому времени (GMT+5). Тема моделирования «Мир и процветание в Центральной Азии- главный фактор обеспечения стабильности на всем пространстве ШОС».
Мероприятие организовано при поддержке Секретариата ШОС, совместно SCOLAR Network с Центром народной дипломатии ШОС в Узбекистане и Университетом мировой экономики и дипломатии Узбекистана.
Ссылка на подключение в Zoom:
https://us02web.zoom.us/j/83656345561?pwd=cUdwb1F5UG41VkJWb2kvckw3Q1dEQT09
Webinar ID: 836 5634 5561
Passcode: msco
VIII SCO Model | Tashkent, November 10!
The youth platform SCOLAR Network invites you to participate online in the SCO model, which will take place tomorrow, 10: 00-14: 00 Tashkent time (GMT + 5). The theme of modeling "Peace and prosperity in Central Asia is the main factor in ensuring stability in the entire SCO space".
The event is organized with the support of the SCO Secretariat, together with the SCOLAR Network with the SCO Center for people's Diplomacy in Uzbekistan and the University of World Economy and Diplomacy of Uzbekistan.
Connection link in zoom:
https://us02web.zoom.us/j/83656345561?pwd=cUdwb1F5UG41VkJWb2kvckw3Q1dEQT09
Webinar ID: 836 5634 5561
Passcode: Msco