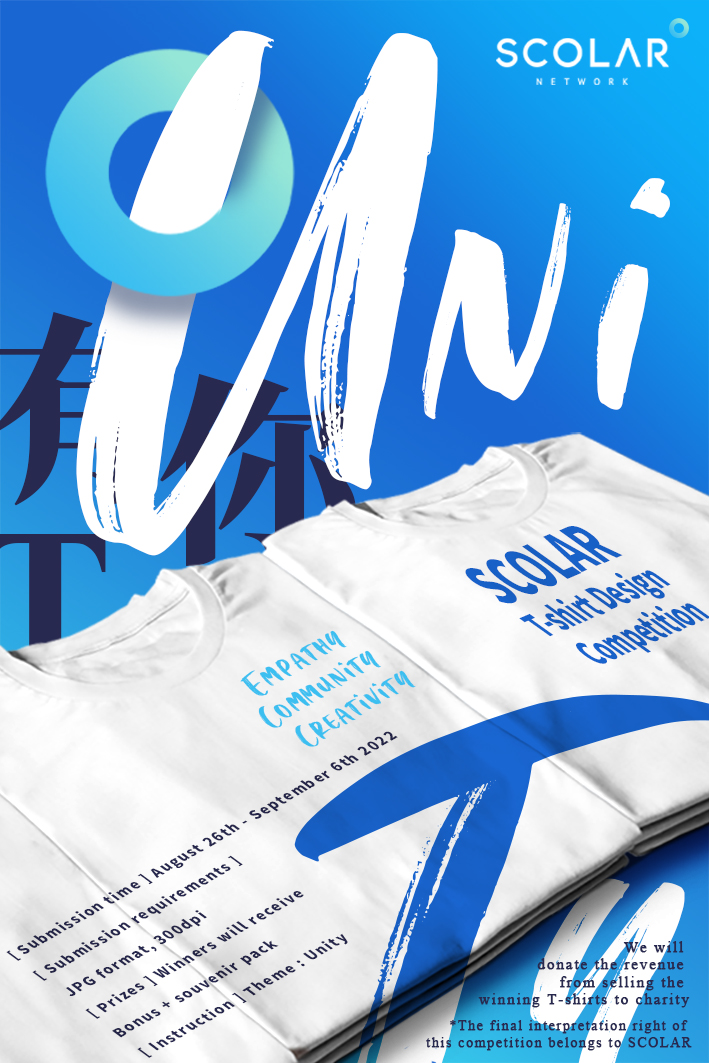 "Unity" T-shirt design competition
Youth are the world's future, and with over one billion youth living in 18 countries in the SCO region, SCOLAR Network unites youth leaders and scholars from across the SCO region to provide a broader platform for developing the youth community through culture, education, and entrepreneurship. Our vision is to positively impact the lives of one billion young people by 2050!
On September 15 this year, the SCO Summit of Heads of States will be held in Samarkand, Uzbekistan, where new countries (Egypt, Qatar, and Saudi Arabia) will be officially welcomed into the SCO family. The "Shanghai Spirit" – "mutual trust, mutual benefit, equality, consultation, respect for cultural diversity and pursuit of common development among the SCO members" – is the soul of the SCO and the SCO region, embodying the spirit of tolerance and unity.
On the occasion of the SCO summit, SCOLAR will hold the first "Unity" T-shirt design competition to provide a platform for imaginative youth to shine.
Theme Explanation
Unity: With empathy as the rudder, creativity as the paddle, and community as the harbor, we will set sail into the future.
Please design your T-shirts with "Unity" as the theme and bear in mind the following keywords: "Empathy, Community, Creativity," and unleash your imagination.
Supplementary design materials: T-shirt sample templates, SCOLAR logo, etc., can be found in the following links.
Timeline
Submissions open: 26 August  – 30 September, 2022 (by 24:00)
Public voting: 1-4September 2022 (by 24:00)
Result announcement: 5 September 2022
Awards Settings
All participants will receive a certificate of participation.
First prize
One person: certificate, 1,000 RMB bonus, a free T-shirt and souvenirs, a spot for the next Deep Dive.
Second prize
One person: certificate, 500 RMB bonus, free T-shirt and souvenirs.
Third prize
One person:  certificate, 200 RMB bonus,  and a free T-shirt and souvenirs.
Special Jury Selection award
SCOLAR logo must appear in the Special Jury Selection Award entries
Two nominations: certificate, 200 RMB bonus, and a free T-shirt and souvenirs.
Rules for judging
The scoring of the competition will adopt a combination of public voting (60%) and organizing committee judging (40%)
Notes:
Up to two versions of the design per person (T-shirt color is white, blue, or gray)
The picture submitted should meet the requirements: in JPG format, 300dpi or above.
Winners must provide the original files of the design after the results are announced.
Special Notifications
The best works will be put into production.
No copying or infringement of any existing artwork on the internet or in print
The fonts used must be commercially available.
The copyright of the winning entries belongs to SCOLAR
and will be used by SCOLAR
Participants retain the Authorship
The final interpretation right of this competition belongs to SCOLAR.
Contact for the questions
Jiaxin Qu